Organ recitals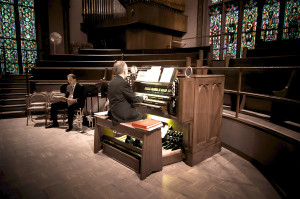 Wednesdays at noon
September 7, 2016 – May 10, 2017

The 2016-17 series of noon organ recitals has concluded. Due to the coming months of building renovations, it is not certain just when the 2017-18 series will begin. Stay tuned and check-in as September nears for an updated forecast!

Luther Memorial's organs
Music at Luther Memorial has a foundation in the magnificent sound of its organs.  The church has three pipe organs:
A 56-rank Austin organ built and installed in the rear balcony in 1966
A 1893 Steere and Sons tracker action organ of 19 stops, restored and installed in the east transept in 1997
A 1986 Bedient portative organ of three stops
› Read the full history of the Austin, Steere and Bedient organs at Luther Memorial.
A History of Church Ceremonies in Saxony
What was worship like in 17th-18th century Lutheran Germany? Christian Gerber tells us in his 1732 book A History of Church Ceremonies in Saxony, parts of which have been translated by Bruce Bengtson.
› Read Bruce Bengtson's selected translations from A History of Church Ceremonies in Saxony.